Enim voluptate
Ad anim ut deserunt minim anim aliquip
labore dolore commodo
Cutting Edge Ministries

Raising Leaders, Shaping Vision & Influencing Society Through Christ

Church Address:
1050 E. Palmdale Blvd., Ste. 209B, Palmdale, CA 93550
Mailing Address:
International Central Gospel Church, PO Box 901251, Palmdale, CA 93590-1251
Phone Numbers:
661-874-5660 / 661-916-8844
Church E-Mail:
icgctempleadonai@gmail.com
Services:
Sundays: 10am - Intercessory Prayer
Sundays: 10:30am - Worship & Celebration Service
Wednesdays: 7pm - Intercessory Prayer
Wednesdays: 7:30pm - Worship, Prayer and Teaching
©
Designed by
Wimberly's Web Works



Dear Pastor Richard Donkor,
This letter is long over-due; I
should have written it a while back,
to say "Thank you" for the
leadership training you provided
for me as Pastor of Living In Christ
Faith Ministries. I wanted to send
you this letter of appreciation for
your diligence and dedication you
gave, in serving me and the LICFM
family.
The training you provided us was simply outstanding; the
cutting-edge material you shared with us will forever
change our hearts, minds, and ministerial outlook.
Having attended many seminars and training
programs, in my capacity as pastor of LICFM, I must say
that you gave us more than I could have ever hoped for.
My leaders, as well as myself, have a new vigor towards
ministry. We have all met to discuss the effects of your
Leadership Training, and the specific areas we need to
apply our new-found knowledge and insights.
I want to thank you, also, and especially, for the
awesome respect and patience you accorded me. You
never embarrassed me in front of my church; even if there
was something I didn't know or understand. You never
challenged me publicly in the areas of my ignorance; you
never tried to out-shine me or make me look ignorant.
You always encouraged me, especially in front of my
leaders, though it was apparent that most of your training
was a new area of teaching and instruction for me, and for
that I thank you.
Your teaching on Paradigm Shifts, enriched my life,
and opened a flood-gate of knowledge, one that created
in most of my leaders and I, a hunger to want and know
more. It set the tone for the inevitable, but positive
changes that we would experience in ministry in
subsequent years.
This letter has, indeed, given me the opportunity to
revisit much of your training material, and now that I am
the Senior Bishop of the New Testament Reformation
Movement, and also the new Pastor of House Of Prayer
Ecclesiastic Ministries (H.O.P.E. Min.), I may need you to
come back and do a whole new leadership training for
me, if your time or schedule permits.
Again, thank you for your love, patience, and
understanding, and above all, the dynamic cutting-edge
training that God blessed you to provide us.
Bishop Monte D Ware (PhD.), Senior Bishop
- New
Testament Reformation Movement, Senior Pastor - House of
Prayer Ecclesiastic (HOPE) Ministries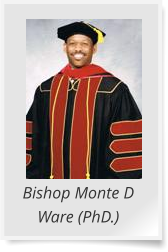 From Mr. & Mrs. Joseph Quansah:
This is a brief account of the impact of the ministry
of Pastor Richard D. Donkor on my personal spiritual
life, and on my quest for leadership development. I
have often told friends that the greatest miracle I have
ever witnessed, is not that of the healing of the blind or
the sick, but of the anointing of God upon the life of
Pastor Donkor, an anointing that has transformed him
into a spiritual leader and teacher. He, without a doubt,
is a product of the mercies of God.
Pastor Donkor is a firm believer in and advocate
for Holistic Ministry where the spiritual, emotional,
financial and physical needs of the community are
discerned and ministered to. Having known him for
almost 28 years, and having been under his leadership
for the past seven , I can testify of the hand of God
upon him. His zeal and commitment to developing
quality leaders for the work of the ministry is
unparalleled; second to none. His life, conversion,
ministry and teachings have greatly helped me develop
my leadership potential and skills, skills which I have
harnessed and had occasion to utilize in my own home
and personal life, as well as in business affairs.
Joseph Quansah holds a Master of Science degree in Civil
Engineering. He is currently a Computer Systems Analyst.
Mrs. Jennifer Quansh is a Registered Nurse.

From Evangelist Joe Contaldi:
I first met Pastor Richard almost 20 years ago in
Victory Outreach then in Glendale, now in Eagle Rock
California, a year after he had arrived from his
motherland - Ghana, West Africa. Our acquaintance
quickly developed into a friendship, a friendship that has
grown and been maintained over these 20 plus years.
Richard Donkor's heart-beat of planting churches,
particularly Multi-racial and national churches, equipping
the believer for more effective ministry in the church and
developing quality leadership to support pastors in the
work of the ministry, is very apparent in his approach to
ministry and delivery of the Word of God.
Richard Donkor does not only talk about it; he has
lived it, supporting and lifting up the hands of my own
pastor, as an associate, for about three years as an
equipper of the believers in our church, in the areas of
discipleship and leadership. Richard Donkor's gift of, and
passion for empowering, training and equipping
believers for supportive roles in the church, is a much-
needed ministry in the body of Christ today. His ministry
insights, gained over almost 28 years of full-time ministry
experience and solid theological and educational
background, will surely enrich your church and ministry.
I fully recommend him to pastors and leaders of
churches and ministries.
Joe Contaldi is an ordained Evangelist with Victory Outreach
Ministries International. He is the author of several books,
popular among them: "The Worms that Spoil the Fruit."

Pastors Glen and Maria Bracht:
I have known Pastor Richard both personally, as a
friend, and ministry partner for over 20 years. Pastor
Richard is a motivated teacher and trainer. He is a
dynamic leader, a powerful and humble instrument used
of God in inspiring, equipping and preparing both
churches and individuals for greater effectiveness in the
work of the ministry. I can testify of the Lord's power
working in and through this vessel. His ministry will bless
your life, church and ministry.
Glen and Maria are ordained ministers of the Gospel.
Currently, Glen functions as a Pastor, Prophet, Evangelist,
Businessman and Real Estate Developer.
From Pastors Augie and Mary Barajas:
Having known Richard Donkor for more than 20
years as a personal friend, I have observed his life as a
husband, father and Pastor. In all of these areas, he has
brought glory to God. I know Richard Donkor to be a man
of vision, purpose and passion. His integrity and strong
spiritual character have marked the lives of many people
from different walks of life. With his unique style of
teaching and preaching, Richard is helping Christian
workers and leaders get to the next level, so they can in
turn become effective in helping their pastors fulfill the
vision God has given them, and the ministries to which
they are called.
Augie and Mary Barajas are the Senior Pastors of Victory
Outreach Ministries International, Eagle Rock, California.
Together, they have nurtured many leaders and pioneered
several churches. Their missionary outreach, extends beyond
the US to Mexico, Latin America, Africa and other regions of
the world.